Dental Veneers in Halifax
With porcelain dental veneers, our Halifax dentists can make adjustments to the colour and shape of your teeth to create a more uniform smile.
Request An Appointment
What Are Dental Veneers?
Dental veneers are extremely thin pieces of tooth-shaped porcelain that are custom-made to fit onto your teeth.
We can apply veneers to your teeth to enhance their appearance and help protect their surface from damage.
Dental Veneers in Halifax: Our Process
In order to ensure as natural an appearance as possible, your dentist will take an impression of your teeth, based on which the veneers will be made. When they're ready, your dentist will affix them to your teeth.
Porcelain veneers look and feel very much like natural teeth because porcelain mimics the smoothness and translucency of a tooth's enamel.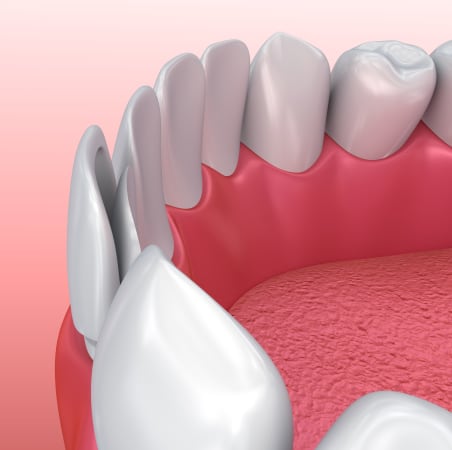 Now Accepting New Patients
Our dentists are always happy to welcome new patients to our Halifax dental office. Contact us to get started today!
Request An Appointment
Location
Scotia Dental
5251 Duke St #602,
Halifax,
NS
B3J 3S1
CA
Phone Number
Hours of Operation
Monday:

08:00 am - 05:00 pm

Tuesday:

08:00 am - 05:00 pm

Wednesday:

08:00 am - 05:00 pm

Thursday:

08:00 am - 05:00 pm

Friday:

08:00 am - 04:00 pm

Saturday:

Closed

Sunday:

Closed