At Scotia Dental in Halifax, we use dental x-rays to help us accurately diagnose dental conditions.
Request An Appointment
How Dental X-Rays Work
As a diagnostic tool and clinical adjunct, x-ray technology helps your dentist identify diseases and abnormalities that may be difficult to detect with the naked eye.
With the help of digital dental x-rays, our dental team is better able to provide our valued patients with more more accurate and effective diagnosis and treatment.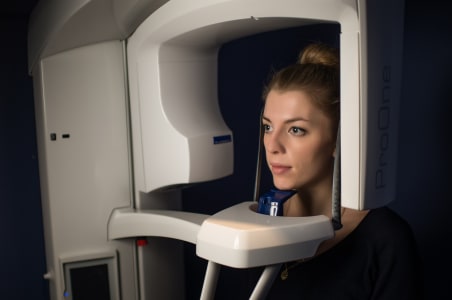 Digital X-Rays
Digital x-ray imaging uses digital sensors rather than the traditional photographic x-ray film we used in the past.
Our digital x-ray technology produces extremely detailed, highly accurate computer images of the teeth, as well as other oral structures and conditions.
Panoramic X-Rays
Panoramic dental x-rays are extremely useful when it comes to getting an overall picture of your oral health because they allow us to generate a single image of the entire mouth.
This image is a flat representation of the jaw's curved structure including the teeth, upper and lower jaws, temporomandibular (TMJ) joints.
Now Accepting New Patients
Our dentists are always happy to welcome new patients to our Halifax dental office. Contact us to get started today!
Request An Appointment
Location
Scotia Dental
5251 Duke St #602
Halifax
NS
B3J 3S1
CA
Phone Number
Hours of Operation
Monday:

08:00 am - 05:00 pm

Tuesday:

08:00 am - 05:00 pm

Wednesday:

08:00 am - 05:00 pm

Thursday:

08:00 am - 05:00 pm

Friday:

08:00 am - 04:00 pm

Saturday:

Closed

Sunday:

Closed