Night Guards & Mouth Guards
With custom mouth and night guards, our Halifax dentists can help protect your teeth from damage during sports activities or teeth grinding while you sleep.
Request An Appointment
Preventing Injury & Trauma
Injuries sustained during sports, and the trauma and damage long-term teeth grinding and clenching can cause, can both have a serious negative impact on your oral health.
Preventing damage to your teeth is always preferable to repairing it once it has already occurred, and this is why sports guards and night guards are such an important element to our preventive approach to dental care.
We often prescribe sports mouth guards and night guards (bite plates) to prevent injury and trauma to the teeth from occurring in the first place.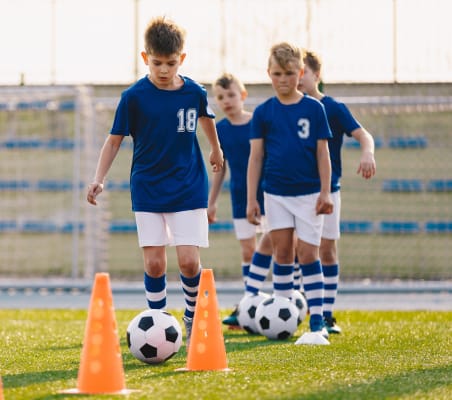 Sports Mouth Guards
A  custom sports mouth guard is a device made to fit your unique teeth. It is worn over the teeth and protects them (as well as the jaw and soft tissues) when you experience a blow to the face and head during sports activities. 
Our Halifax dentists recommend that you wear a custom sports guard (rather than a store-bought one) while participating in any sporting activity that puts your teeth, mouth or jaw at risk of coming into contact with another person or object.
A custom-made sports guard is better able to protect you because it is made to fit you exactly. This means it is more likely to stay snuggly in place and provide optimal protection throughout the game.
Night Guards or Bite Plates
If you grind or clench your teeth during sleep, you should consider getting a night guard. Over time, grinding and clenching prematurely age your teeth. A night guard can act as a buffer between the top and bottom teeth, preventing contact during grinding and clenching.
A night guard can also reduce and relieve pain from TMD and jaw clenching by preventing you from being able to clench your jaw while you sleep.
Your dentist can fit you with a custom-made night guard to help protect your teeth while you sleep, and relieve the symptoms of teeth grinding. A digital scan of your teeth ensures a comfortable and snug fit, and a more peaceful night's sleep.
Now Accepting New Patients
Our dentists are always happy to welcome new patients to our Halifax dental office. Contact us to get started today!
Request An Appointment
Location
Scotia Dental
5251 Duke St #602,
Halifax,
NS
B3J 3S1
CA
Phone Number
Hours of Operation
Monday:

08:00 am - 05:00 pm

Tuesday:

08:00 am - 05:00 pm

Wednesday:

08:00 am - 05:00 pm

Thursday:

08:00 am - 05:00 pm

Friday:

08:00 am - 04:00 pm

Saturday:

Closed

Sunday:

Closed