Chronic mouth breathing can have serious negative impacts on your physical health, sleep, and quality of life. Our dentists diagnose and treat this condition with Myofunctional Therapy.
Request An Appointment
What is Myofunctional Therapy?
Automatically breathing through your mouth instead of your nose can have serious impacts on your physical health.
This is especially true for children, whose physical growth and development in their earliest years have implications for the rest of their lives.
Myofunctional Therapy allows your dentist to evaluate your breathing, plan appropriate exercises, and recommend special orthodontic appliances to treat improper patterns in the way your facial and tongue muscles work.
These exercises help to retrain those muscles, restoring strength and coordination. They can also help you breathe better.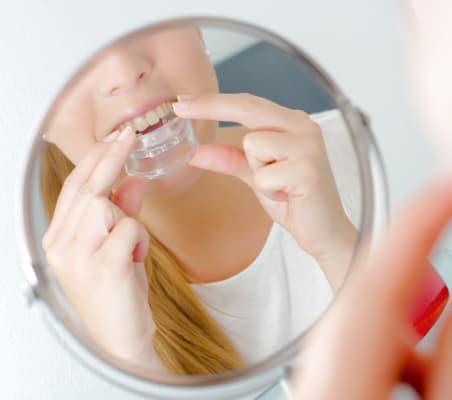 Symptoms of Chronic Mouth Breathing
Chronic mouth breathing can lead to these symptoms and conditions:
Inability to hold mouth closed
Heightened risk of gum disease and cavities
Sleep apnea
Snoring
Chronic fatigue
Dry mouth
Bad breath
Narrow upper arch
Gapped, crooked, or protruding teeth
Unattractive development of facial muscles
Because these are serious conditions that can lead to even more severe health problems, early detection, intervention, and treatment are important. That's where Myofunctional Therapy can help.
Benefits of Myofunctional Therapy
Early detection, intervention, and treatment of chronic mouth breathing are imperative to your overall oral health.
Similar to the impact physical therapy has on your body, myofunctional therapy retrains the soft tissues of your face, neck, and mouth to work properly.
The purpose of myofunctional therapy is to improve oral functions, including:
Breathing
Chewing
Speaking
Swallowing
Occlusion (Contact between teeth)
At our Halifax dental clinic, our our dentists can provide a diagnosis and suggest exercises, techniques, and dental appliances to treat this condition.
Speak with your dentist to see which exercises or techniques are right for you.
Now Accepting New Patients
Our dentists are always happy to welcome new patients to our Halifax dental office. Contact us to get started today!
Request An Appointment
Location
Scotia Dental
5251 Duke St #602,
Halifax,
NS
B3J 3S1
CA
Phone Number
Hours of Operation
Monday:

08:00 am - 05:00 pm

Tuesday:

08:00 am - 05:00 pm

Wednesday:

08:00 am - 05:00 pm

Thursday:

08:00 am - 05:00 pm

Friday:

08:00 am - 04:00 pm

Saturday:

Closed

Sunday:

Closed