Teeth Whitening in Halifax
With both in-office or take-home teeth whitening treatment options available at our Halifax dental office, we can improve the colour of your natural tooth enamel on your terms.
Request An Appointment
What is Teeth Whitening?
Teeth whitening involves using peroxide-based bleaching agents to lighten the colour of your teeth. For your convenience, we offer in-office and take-home teeth whitening options.
ZOOM! In-Office Teeth Whitening in Halifax
We use ZOOM! professional in-office whitening to make your smile lighter in the course of a single appointment.
During the ZOOM! process, your lips and gums are covered with a protective isolation material to prevent the whitening gel from coming into contact with them.
We then apply the whitening gel, which is activated by the specialty ZOOM! light source to break down stains and discolouration on your teeth.
Take-Home Teeth Whitening in Halifax
Take-home whitening kits provide the same results over a longer period of time but allow you to lighten your teeth in the comfort of your home.
We provide you with the whitening solution and a custom-made tray, as well as instructions on how to use them to whiten your teeth at home.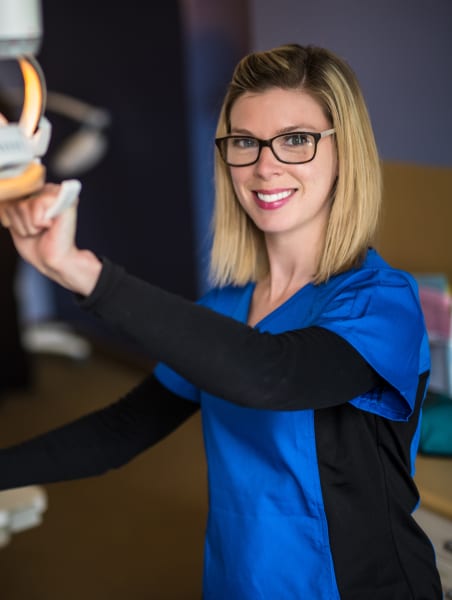 Is teeth whitening right for you?
If your teeth have become discoloured as a result of health, environmental, or dietary factors, talk to one of our dentists about which teeth whitening option is right for you.
Now Accepting New Patients
Our dentists are always happy to welcome new patients to our Halifax dental office. Contact us to get started today!
Request An Appointment
Location
Scotia Dental
5251 Duke St #602,
Halifax,
NS
B3J 3S1
CA
Phone Number
Hours of Operation
Monday:

08:00 am - 05:00 pm

Tuesday:

08:00 am - 05:00 pm

Wednesday:

08:00 am - 05:00 pm

Thursday:

08:00 am - 05:00 pm

Friday:

08:00 am - 04:00 pm

Saturday:

Closed

Sunday:

Closed