Our Halifax dentists can help restore your smile by using a dental bridge to replace any missing teeth.
Request An Appointment
What is a Dental Bridge?
A dental bridge is a fixed dental restoration that replaces one or more missing teeth. It is attached to the teeth on either side of the gap, literally 'bridging' the space.
Benefits Of Dental Bridges
Dental bridges are custom-made to fit the space left by a patient's missing teeth. They are hard to detect and have a natural appearance.
Bridges can help to restore your smile, as well as the bite between the upper and lower teeth.
Additionally, bridges may help restrict the movement of your other teeth, preventing certain dental complications, such as gum disease.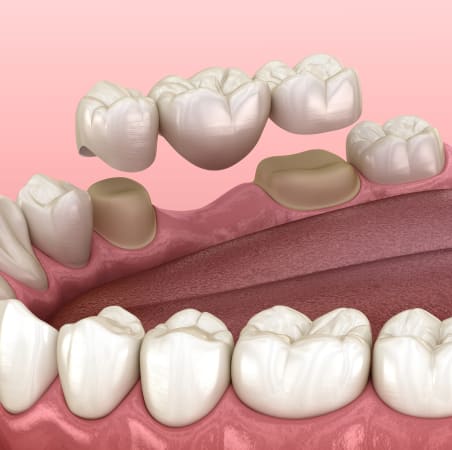 Now Accepting New Patients
Our dentists are always happy to welcome new patients to our Halifax dental office. Contact us to get started today!
Request An Appointment
Location
Scotia Dental
5251 Duke St #602,
Halifax,
NS
B3J 3S1
CA
Phone Number
Hours of Operation
Monday:

08:00 am - 05:00 pm

Tuesday:

08:00 am - 05:00 pm

Wednesday:

08:00 am - 05:00 pm

Thursday:

08:00 am - 05:00 pm

Friday:

08:00 am - 04:00 pm

Saturday:

Closed

Sunday:

Closed