At our Halifax dental clinic, we use dental crowns to repair damaged or decayed teeth and protect them from further damage.
What are Dental Crowns?
Dental crowns are tooth-shaped protective caps that fully cover a damaged tooth, preventing further issues. Crowns can also help renew the appearance and function of your teeth.
At Scotia Dental, our dentists can correct many types of tooth damage with dental crowns.
Dental crowns can be made of a variety of materials, including porcelain, metal, and ceramic. They can blend in well with your natural teeth, and when cared for properly, can last many years.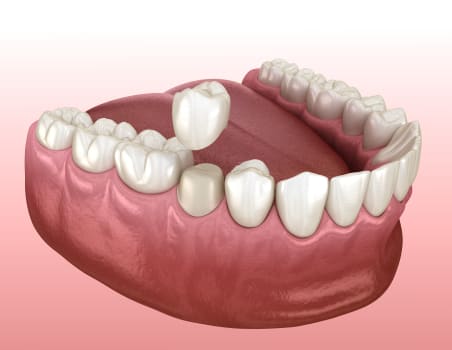 When are Dental Crowns used?
Your dentist might apply a crown if your tooth is damaged enough that there is not enough healthy material left for a filling. A crown might also be added after a root canal procedure to strengthen the tooth.
In addition, crowns are helpful for aesthetic purposes, such as covering crooked or discoloured teeth.
Now Accepting New Patients
Our dentists are always happy to welcome new patients to our Halifax dental office. Contact us to get started today!
Request An Appointment
Location
Scotia Dental
5251 Duke St #602,
Halifax,
NS
B3J 3S1
CA
Phone Number
Hours of Operation
Monday:

08:00 am - 05:00 pm

Tuesday:

08:00 am - 05:00 pm

Wednesday:

08:00 am - 05:00 pm

Thursday:

08:00 am - 05:00 pm

Friday:

08:00 am - 04:00 pm

Saturday:

Closed

Sunday:

Closed