Our cheerful office environment helps children to feel comfortable during their visit, and our dentists and team understand how to provide comprehensive dental care at their pace. 
Request An Appointment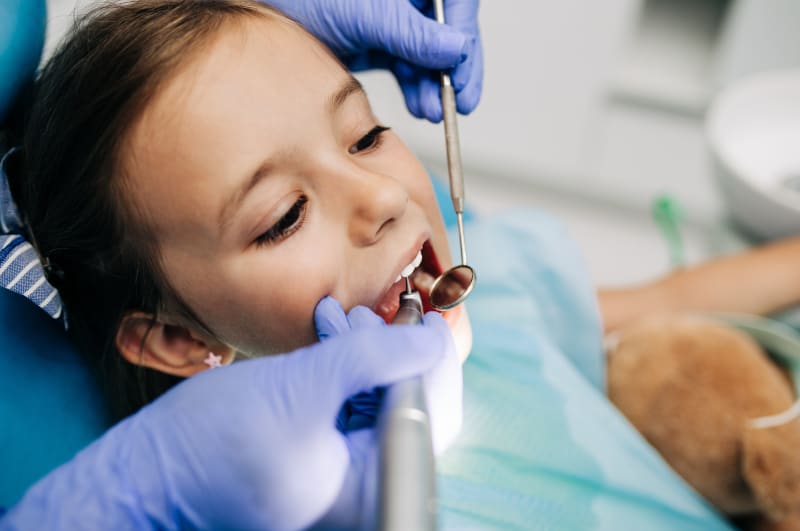 Creating Healthy Smiles for Life!
It's important that our young patients have positive early dental experiences. These formative experiences will help ensure that they maintain healthy dental habits for the rest of their lives.
We're committed to helping children feel safe, happy, and comfortable in the dentist's chair. Our friendly and gentle team will welcome you and your child warmly to our office, and our reception area has books and toys to keep kids busy while they wait for their appointment.
During Your Child's Appointment
When it's time for your child's appointment to begin, the hygienist and dentist will explain the process and discuss their oral health in language that is easy to understand. They will take the time to answer any questions your child may have and ensure they are comfortable.
During the checkup and cleaning, the dentist and hygienist will work at your child's place, take breaks if they're needed, and gently explain what to expect during each step in age-appropriate language.
At the end of the appointment, the dentist and hygienist will talk to your child about their at-home dental hygiene routine, and provide advice on how to improve brushing and flossing techniques.
Services for Children
Scotia Dental offers the following treatment options for children:
Now Accepting New Patients
Our dentists are always happy to welcome new patients to our Halifax dental office. Contact us to get started today!
Request An Appointment
Location
Scotia Dental
5251 Duke St #602,
Halifax,
NS
B3J 3S1
CA
Phone Number
Hours of Operation
Monday: 08:00 am - 05:00 pm
Tuesday: 08:00 am - 05:00 pm
Wednesday: 08:00 am - 05:00 pm
Thursday: 08:00 am - 05:00 pm
Friday: 08:00 am - 04:00 pm
Saturday: Closed
Sunday: Closed